Children's Advil Suspension Dye-free Blue Raspberry
Children, Ages 2-11
Unsurpassed fever relief in 6 great tasting flavors†. When your child has a fever, you know what it's like to wait it out. Children's Advil Suspension reduces fever fast* – even faster than Children's Tylenol. It lasts longer*, too – up to 8 hours with just one dose. And Children's Advil also relieves aches and pains.
* Based on reducing fever below 100°F
†Among OTC fever reducers/pain relievers.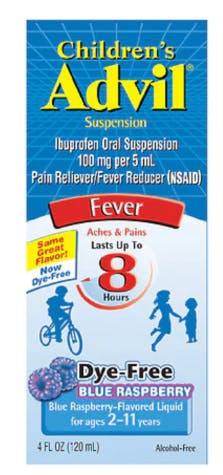 Temporarily:
reduces fever
relieves minor aches and pains due to the common cold, flu, headaches, toothaches, and sore throat
Dosing Information:
Shake well before using
Repeat dose every 6-8 hours, if needed
Do not use more than 4 times a day
Find right dose on chart below. If possible, use weight to dose; otherwise use age.
Only use the measuring device that comes with the product to be sure you give the right dose.
| Weight (lb) | Age (yr) | Dose (mL) |
| --- | --- | --- |
| Under 24 lb | under 2 yr | Ask a doctor |
| 24-35 lb | 2 - 3 yr | 5 mL |
| 36-47 lb | 4 - 5 yr | 7.5 mL |
| 48-59 lb | 6 - 8 yr | 10 mL |
| 60-71 lb | 9 - 10 yr | 12.5 mL |
| 72 - 95 lb | 11 yr | 15 mL |
Active Ingredient:
(in each 5mL)
Solubilized ibuprofen equal to Ibuprofen 100 mg (NSAID)*
*Nonsteroidal anti-inflammatory drug
Inactive Ingredients:
artificial and natural flavors, carboxymethylcellulose sodium, citric acid monohydrate, edetate disodium, glycerin, microcrystalline cellulose, polysorbate 80, propylene glycol, purified water, sodium benzoate, sodium citrate, sorbitol solution, sucrose, xanthan gum